Description
The HanleyLED PhoenixNRG LED light bars are a collection of bars that can be used for new install or HO fluorescent lamp replacement applications in sign cabinets. They come ready to go out of the package.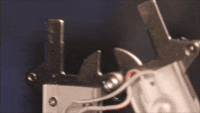 The smaller bars don't have them, but the larger bars have hinges that allow the bars to be easily collapsed for savings in shipping cost. Simply open the hinge and snap your bar into the existing lamp sockets (for retrofits), or screw directly into the existing structure for new installs. Socket caps come attached to the bars ready to be installed into existing sockets. These can be unscrewed and easily removed for new installations where the caps are not required.
These bars are double sided and operate on HanleyLED 24V power supplies.
Specifications
| Item | LED Lamp x-ref | Module Qty Per Bar | Watts (w) | Lumens (lm) | Actual Size (in) |
| --- | --- | --- | --- | --- | --- |
| HPEB-2S24 | F24HO | 6 | 6.6 | 1122 | 21 |
| HPEB-2S30 | F30HO | 8 | 8.8 | 1496 | 27 |
| HPEB-2S36 | F36HO | 10 | 11 | 1870 | 33.1 |
| HPEB-2S42 | F42HO | 12 | 13 | 2210 | 39.1 |
| HPEB-2S48 | F48HO | 14 | 15 | 2550 | 45 |
| HPEB-2S60 | F60HO | 18 | 20 | 3400 | 57 |
| HPEB-2S64 | F64HO | 20 | 22 | 3740 | 61.1 |
| HPEB-2S72 | F72HO | 22 | 24 | 4080 | 69 |
| HPEB-2S84 | F84HO | 26 | 29 | 4930 | 81 |
| HPEB-2S96 | F96HO | 30 | 33 | 5610 | 93 |
| HPEB-2S108 | F108HO | 34 | 37 | 6290 | 105 |
| HPEB-2S117 | F117HO | 36 | 40 | 6800 | 114 |
| HPEB-2S120 | F120HO | 38 | 42 | 710 | 117 |
Power Supply Load Chart
Item
Watts/Bar
Power Supplies (24v)
60W
H60W-PPS524V
H60W-PPSEM24V
100w
H100W-PPS524V
H100W-PPSEM24V
150W
H150W-PPS524V>
H150W-PPSEM24V
240w
H240W-PPS524V
Max Number of Phoenix NRG bars Per Power Supply
HPEB-2S24 (F24HO)
6.6w
9
15
22
36
HPEB-2S30 (F30HO)
8.8w
6
11
16
24
HPEB-2S36 (F36HO)
11w
5
9
12
20
HPEB-2S42 (F42HO)
13w
4
7
10
16
HPEB-2S48 (F48HO)
15w
4
6
10
16
HPEB-2S60 (F60HO)
20w
3
5
6
12
HPEB-2S64 (F64HO)
22w
2
4
6
8
HPEB-2S72 (F72HO)
24w
2
4
6
8
HPEB-2S84 (F84HO)
29w
2
3
4
8
HPEB-2S96 (F96HO)
33w
1
3
4
4
HPEB-2S108 (F108HO)
37w
1
2
4
4
HPEB-2S117 (F117HO)
40w
1
2
2
4
HPEB-2S120 (F120HO)
42w
1
2
2
4
Layout Guidelines
| Double-sided light box depth | Maximum space between bars (in) |
| --- | --- |
| 9 | 12 |
| 12 | 15 |
| 18 | 20 |
| 24 | 22 |
Product Dimensions
View All
Close